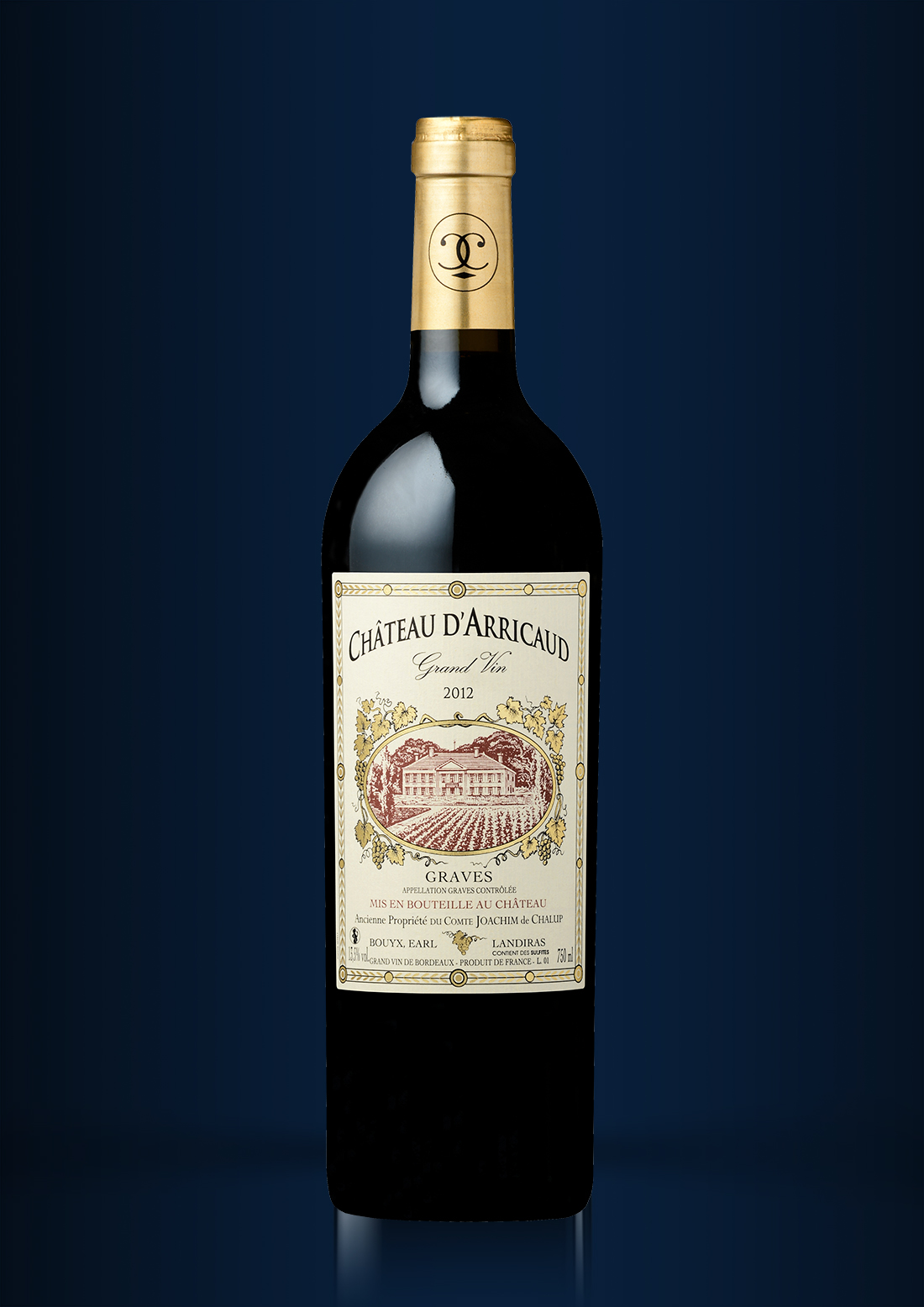 CHATEAU D'ARRICAUD
Grand Vin
A great terroir that confirms its quality.
GEOGRAPHICAL LOCATION : In the heart of Graves, on one of the region's characteristic gravelly hillocks, the vineyard is planted on a south-east facing slope, looking out over the undulating landscape of Sauternes and the Entre-deux-Mers.
AREA : 4 hectares.
TERROIR : Clay-limestone and gravel.
GRAPE VARIETIES : 90% Cabernet Sauvignon. 8% Merlot. 2% Petit Verdot.
AVERAGE AGE OF VINES : 45 years.
PLANTING DENSITY : 5,500 vines per hectare.
GROWING METHODS : Bordeaux "à côt" short pruning and single Guyot. Ploughing and controlled grassing. Leaf stripping and thinning of bunches.
YIELD : 29 hl/hectare
HARVEST : Each manual and mechanical harvest, with sorting of the grapes in the vineyard, is subject to strict selection at the Château.
VINIFICATION : In vats with regular punching down. Separate vinification of each grape variety. Malolactic fermentation: in barrels.
MATURING : In barrels for two years.
PACKAGING : Cardboard boxes of 12 horizontal "export" bottles.
TASTING NOTE : Powerful, complex nose; berries with a hint of wood and vanilla. Plenty of volume and body on the palate, culminating in a generous finish.
FOOD AND WINE PAIRING : Meat and cheeses. Can also be enjoyed by itself! Open in advance.
SERVING TEMPERATURE : 17°C.
AGEING POTENTIAL : 10/15 years.